Crystal perfume bottles make a great gift either as an elegant standalone piece or as a container for other items. Antique perfume bottles are beautiful works of art in their own right. On the other hand, using a crystal perfume bottle with modern perfumes can be a sophisticated addition to any perfume lover's collection.
Crystals are timeless gifts that can be passed down from generation to generation. It's also common in an era where perfume packaging is becoming more stylish and less ornate.
The History of Glass Perfume Bottles
The practice of bottling fragrances has a long history - the ancient Egyptians created fragrances and put them in clay and snow cream containers. The history of glass perfume bottles dates back as far as the fifteenth century, and although attempts were made to use other materials, such as porcelain, to hold perfume, glass proved to be the best material for holding fragrance.
Crystal Perfume Bottles
Wedding Gifts
If you're having a small wedding, one advantage is that you can splurge on the wedding and offer everyone something really special to take home, not just a few chocolates. A beautiful mini crystal glass perfume bottle with an inexpensive but lovely scent inside may be fondly remembered by guests who may have a lot of memorable wedding gifts to give them.
Special Gifts
A set of crystal perfume bottles is a lovely gift for someone you know who collects perfume bottles or who likes small vintage decorations. Any woman who likes to keep a special and unique style in her home will love crystal perfume bottles.
Just like glass perfume bottles, you don't have to use only crystal perfume bottles for perfume. One of the unique ways you can use a crystal perfume bottle is to fill it with layers of colored sand and pebbles. This provides an attractive centerpiece for your coffee table or a very nice paperweight. It can be given as a gift to someone or is the perfect way to decorate your own home.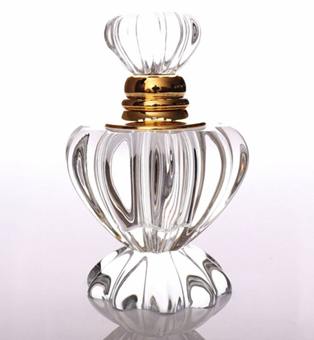 Crystal Perfume Bottle
Make your own scent
If you want to make a special gift for someone, why not make a fragrance for them. Mix different oils and scents to create a unique scent that suits your loved one. You can combine all the scents that fit and match the receiver perfectly.
Scent design is where you can easily create scents.
The perfect match for this special gift is to use a crystal perfume bottle to put the fragrance you make in. It looks great and it will add to the charm of this beautiful gift. The best part about using it as a container is that it will look good no matter what.
Crystal is an elegant material and it can go with any decorative scheme everyone loves the simple elegance of this bottle. You can also make your own label and tie it around the neck of the crystal perfume bottle so that you have a quality vintage perfume bottle for that special someone.
For more information about the uses of crystal glass perfume bottles, welcome to contact us at +86 571 5897 2824 or write to us at shirley@boye-hz.com. We will be happy to help you out!