In a rapidly changing world, high-end candle brands must respond and adapt to new market changes. Luxury private label candle manufacturers use their expertise to help create candles that are consistent with the identity of the brand. A successful positioning strategy begins with an understanding of the brand's value proposition.
Making high-end candles requires the ultimate in quality ingredients and sophisticated aesthetics. In the long run, choosing a reliable candle manufacturer with a consistent approach and technical expertise can prove valuable.
Here are 5 important tips to consider when choosing a private label candle manufacturer for your luxury brand.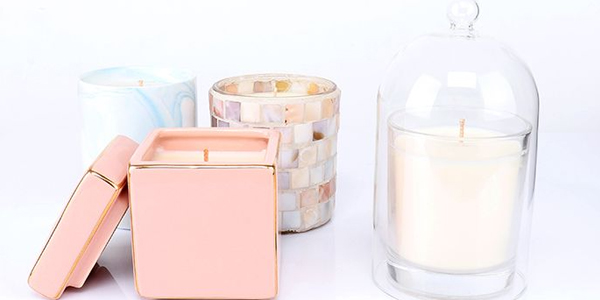 Scented Candle
1. Candles of different strengths
Scented candles are the hallmark of any luxury candle brand. Within 60 minutes of being lit, a scented candle releases its delicious fragrance and burns evenly without tunnelling effects. This ensures that it has the longest burn time.
The intensity of a candle's fragrance can be described as heady and intense or soft and subtle. Candle manufacturers can use a variety of techniques to adjust the intensity of the scent to match the brand's requirements.
2. Custom candle scents
Creating bespoke candle scents is an exclusive service offered by the best private label candle manufacturers. Custom scents are designed by perfumers with years of training in the art of fragrance creation. By using hundreds of natural and synthetic raw materials, the perfumer is inspired to produce beautiful fragrances in line with the brand's objectives. The client brief articulates the direction the brand envisions for the fragrance and includes elements such as scent notes, colours, images, logos, fonts and more.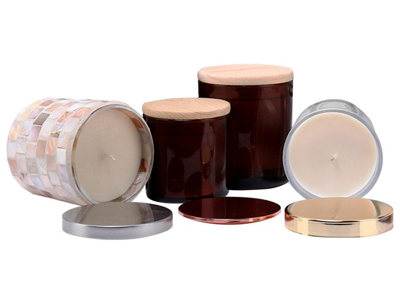 Glass Candle
The result is a unique candle scent that inspires and delights. These scents can also be extended to new applications such as reed diffusers, soaps and body lotions.
3. The highest quality candle fragrance oils
High-end candle brands have access to the highest quality fragrance oils. Although there are many fragrance oil manufacturers, the best candle fragrance oils are only available through a small number of manufacturers. Although they enjoy a wide supply of raw materials, their extraction and production techniques ensure that the fragrance retains its natural essence.
Using the finest essential oils, such as rose, patchouli, sandalwood and bergamot, is an important step in creating a rich and sophisticated olfactory experience.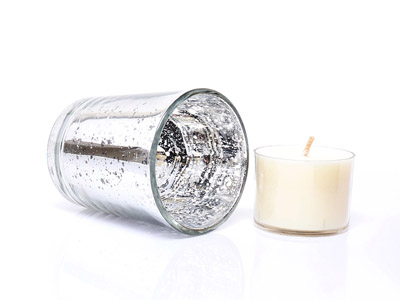 Candle Jar and Scented Candles
4. Custom candle jars
Aesthetics are an opportunity for luxury brands to differentiate and tell a special story. With their vibrant colours and decorative designs, custom candle jars make a wonderful accent and the perfect home décor gift.
While clear glass candle jars are the industry standard, the best luxury candle manufacturers offer bespoke candle jars in decorative colours. Coloured candle jars are available in any colour, including black, white, bronze, amber, frosted, metallic and more!
Self-branded candle jars are painted on the outside and inside - providing a two-tone aesthetic. Experienced packaging designers offer suggestions for colour finishes according to minimalist, contemporary, elegant or classic design styles.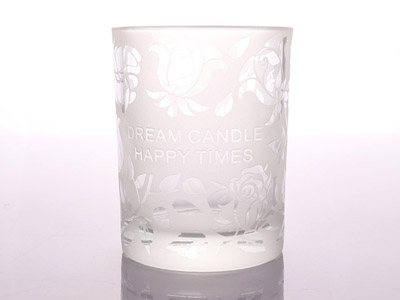 Luxury Empty Candle Glass Jars In Bulk For Scented Candle Making
A- Matt candle jars
Matt candle jars with a silky finish. Colours such as red, green and black have an opaque finish, creating a stone and ceramic-like aesthetic. Matte glossy candle jars are also opaque; however they offer a reflective and shiny finish.
B- Translucent candle jars
Translucent candle jars allow some light to pass through the glass. Any Pantone colour can be applied to glass, but it is still translucent.
Common examples are amber and frosted candle jars.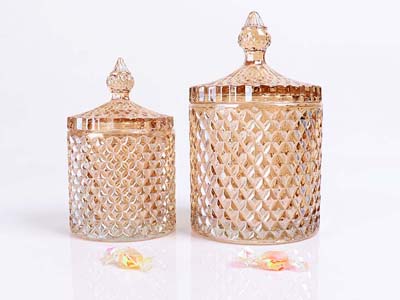 Amber Glass Candle Jar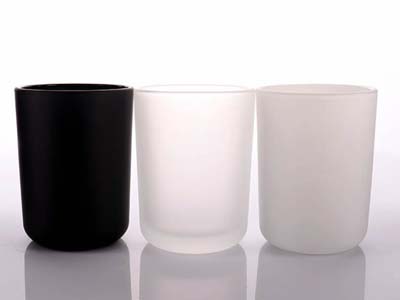 Luxury Frosted Glass Candle Jar
C- Metallic candle jars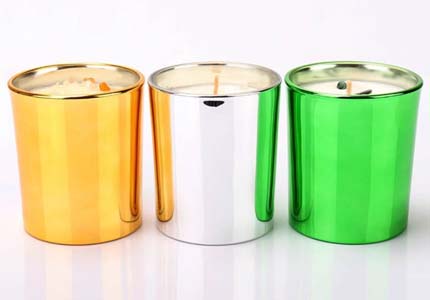 Metallic Colored Luxury Scented Candle Glass Jars
Metallic candle jars are made from glass and have a bright metallic sheen. The result is an opaque, rich, shiny gold aesthetic.
D- Candle jar with metal lid
The metal lids protect the wax when the candle is not in use. They also add aesthetic appeal, especially when the candle is used for gifts such as housewarming or Christmas presents. The metal lids are available in matt black, matt white, yellow and rose gold and copper.
E-Metal candle containers
A few years ago, interior designer Jonathan Adler introduced metal candle containers to their collection. Since then, they have become particularly popular, especially for modern home decor gifts. Made from aluminium, the metal candle containers can be painted in colours such as yellow and rose gold, bronze and matt black. Their lightweight and aesthetic appeal make them very popular as own-brand candle tins.
Are you interested in learning more about custom candle jars and scented candle and how they can benefit you? Contact us today to secure an expert consultation!