One of the best things about reed diffusers is that they are quick and easy to use - requiring minimal maintenance. You can fill a room with your favorite fragrance in minutes.
This article will focus on
How do I use a reed diffuser?
Where to place your reed diffuser?
How often should you flip your reeds?
When should I change the reeds?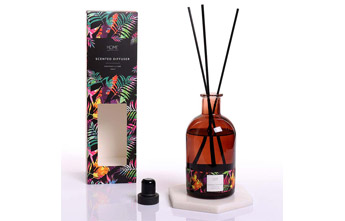 Reed Diffuser
How do I use a reed diffuser?
Here's the best way to use your new reed diffuser.
Before setting up the diffuser, place a few paper towels underneath the glass vessel to prevent spillage. Avoid doing this on wooden or delicate surfaces, as the oil may leave stains.
If the fragrance oil comes in a separate container, the next step is to pour the oil into the container until it is about ½ to ¾ full. Do not fill it all the way to the top or it may overflow when you add the reeds. If your diffuser container is already filled with oil, skip this step.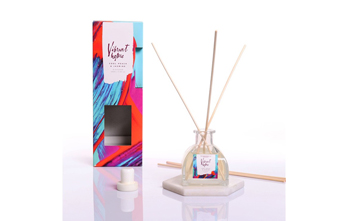 Reed Diffuser
Place the reeds in the vessel so that the bottom of the sticks are submerged in the fragrant oil. The number of reeds you add will determine how light or heavy the scent will be (we recommend starting with 6 to 8 reeds).

Give your reeds a few minutes to absorb the oil, then carefully turn them over so that the dry end is in the bottle and the saturated end is in the air.

Unfold your reeds as much as possible, allowing air to circulate between them. Allow the scent to diffuse completely for up to 24 hours.

Turn your reeds over regularly (about once a week) to keep the scent strong.
Once set up, a reed diffuser will usually last between 1 and 6 months, depending on the amount of fragrance oil in the container. Whenever you want a scent, turn the reed sticks. Do this carefully, one by one, to avoid letting the fragrance oil drip out. We don't recommend doing this too often - every 2 to 3 days at most - as it will cause your oil to evaporate more quickly.
You can also add more reeds to your diffuser if you find the scent too light. In most cases, this is usually more than enough, but if needed, you can purchase additional cane reed diffuser sticks and diffuser bottles online.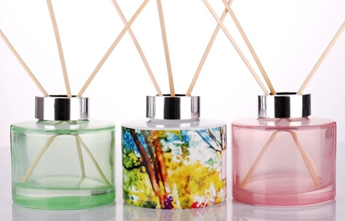 Diffuser Bottles
Where to place your reed diffuser?
When using a reed diffuser, it is important to consider the size of the room it is in and where to place it. Popular places to use a reed diffuser include
Bathrooms
Foyers and entryways
Kitchens
Bedrooms
Offices
For smaller rooms and areas such as bathrooms and foyers, a small reed diffuser with 6 to 8 reeds is usually sufficient to provide a nice, subtle scent. For more spacious areas, you may need additional reed sticks and a larger diffuser to fill the entire space.
As for where to place it in the room, choose an area with good air circulation, but not near an air conditioner, window, or corner. A clever trick is to think of your diffuser as a vase of flowers. Place it in a place where people often pass by so they can catch a whiff of the scent every time.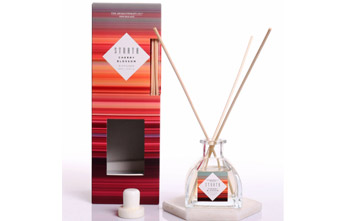 Reed Diffuser
Finally, place your reed diffuser in a cool, shady place. This won't affect the scent, but keeping the bottle at a lower temperature and out of direct sunlight will help it last longer.
How often should you flip your reeds?
Turning your reed sticks frequently will provide a fresh scent and help prevent the reeds from getting clogged. We recommend performing this once a week or every two weeks.
To do this, remove the reed and place the dry end into a container. Do this over a sink or garbage can so that the oil does not drip onto the table or furniture. Please use a paper towel when holding the reed to avoid greasy fingers.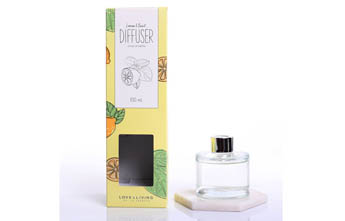 Reed Diffuser
When should I replace the reeds?
Good quality rattan reeds will last up to six months, but after the first month, you may notice the smell begin to fade. This is because over time, dust and other impurities will begin to clog the reeds, thus preventing the proper diffusion of the fragrance oil.
For best results, we recommend replacing your diffuser reeds every 2 to 3 months.
Discover our reed diffusers
A reed diffuser is an elegant way to infuse your home with delicious fragrances. At Boye, we make beautiful reed diffusers.
If you haven't used a reed diffuser before, you should definitely give them a try. They are easy to use, durable, low maintenance, and perfect for the holiday season to make your home feel more festive and welcoming.
Contact us at +86 571 5897 2824 / +86 187 6712 8055 or write to us at shirley@boye-hz.com. We will be happy to help you out!