The unmatched black candle jars with gold inner have thick walls that help reduce the outside temperature.Available in a stunning range of rich, high-quality colors that create the perfect ambience for any room. The black candle jars from Boye are available in wholesale quantities or in any option or style you choose. Whether you are a candle lover or a professional candle maker, there is the right candle jar for your next candle making project.
Matt black candle jars are versatile containers that can be used for :
1. Candle making: You can custom matt black candle jars to hold homemade candles. These jars are often used for creating scented candles, as the black color can help to enhance the fragrance of the candle.
2. Home decor: Matt black candle jar can make a stylish addition to any room in your home. You can use it to hold a candle, or you can fill it with other decorative items such as flowers or seashells.
3. Gifts: A candle in a matt black jar can make a great gift for someone special. You can fill the jar with a scented candle or a candle made with natural ingredients, such as beeswax or soy wax.
4. Outdoor events: Wholeasale matt black candle jars can also be used to add ambiance to outdoor events, such as weddings or backyard parties. You can place the jar on a table or hang it from a tree branch to create a cozy atmosphere.
5. Storage: In addition to its decorative uses, matt glass candle jars can also be used as a practical storage container. You can use it to hold small items, such as coins or paperclips, or you can use it as a container for homemade beauty products, such as lotions or salves.
As a professional candle jars supplier, Boye provides diffuser bottle, black candle jars wholesale with low cost price and customized service. Most of our bulk glass candle jars are available with or without a lid, the wide range of glass candle containers have various sizes, shapes and colors. Glass jars are produced in clear, frosted, matte and amber colors with a variety of different lid options. All you have to do is to tell us your special requirements!
Features of wholesale black candle jars:
1. The glass candle holders are made of high-quality raw materials and environmentally friendly glassware, which will not cause harm to people.
2. Black candle jars can be made into different effects such as matte, frosted, polished, sprayed. You can choose the effect you like.
3. You can choose different covers for your item. We have bamboo lids, wooden lids, metal lids and they are beautiful on glass jars.
4. Regarding the packaging, we wrap the glass candle jars with air column bubble bags to avoid damage during shipping.
5. We accept OEM and wholesale custom orders. Available surface handling: Frosted, Inside Painting, Outside Painting, Electroplating, Logo Printing, Logo Hot Stamping, Decal, Laser and so on.
1. MOQ & Delivery time

| | | | |
| --- | --- | --- | --- |
| Type | 1000-3000pcs | 3001-5000pcs | >5000pcs |
| Matt Black & Glod | 35 days | 45 days | 55 days |
| Matt White & Gold | 35 days | 45 days | 55 days |
2. Packing Details & Shipping way

1) All jars will be packed in a poly bag, and then packed in double layer cartons. The cartons will be packed on pallets.
2) 96pcs/ctn
3) Measurement: 45x38x35cm
4) GW: 18kg
3. Knowing with your detailed address, we will check the shipping cost and leading time for you.
Customization Process is as below:
1) Comfirm what size of jar you need.
2) Confirm the color of jar. It requires Pantone code or sample for specific color.
3) Confirm the printing. We will need the printing artwork in Adobe Illustrator.
4) Free Sampling.
5) Mass production, with the sample confirmed.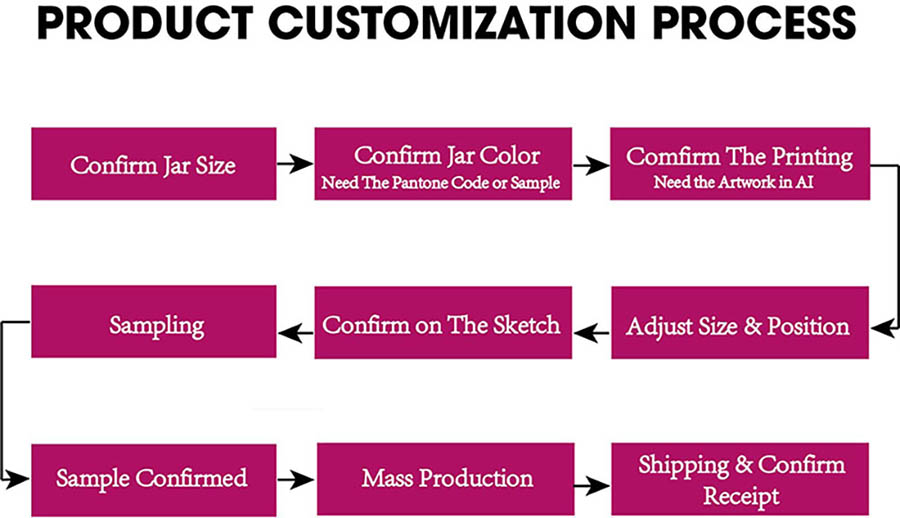 Hot Sale Sizes for your reference.

| | | | |
| --- | --- | --- | --- |
| Suggested Wax Volume | Dimension | Customized Coloring | Logo Printing |
| 60gm/ 2.11oz | D: 5.2cm; H: 6.2cm | ✓ | ✓ |
| 70gm/ 2.47oz | D: 5.6cm; H: 6.8cm | ✓ | ✓ |
| 120gm/ 4.23oz | D: 6.0cm; H: 7.4cm | ✓ | ✓ |
| 150gm/ 5.29oz | D: 7.0cm; H: 8.0cm | ✓ | ✓ |
| 165gm/ 5.82oz | D: 7.0cm; H: 8.4cm | ✓ | ✓ |
| 200gm/ 7oz | D: 7.9cm; H: 9.3cm | ✓ | ✓ |
| 220gm/ 8oz | D: 8.0cm; H: 9.0cm | ✓ | ✓ |
| 255gm/ 9oz | D: 8.0cm; H: 10.5cm | ✓ | ✓ |
| 285gm/ 10oz | D: 8.8cm; H: 10.0cm | ✓ | ✓ |
| 310gm/ 11oz | D: 10.2cm; H: 10.2cm | ✓ | ✓ |
| 340gm/ 12oz | D: 11cm; H: 8.0cm | ✓ | ✓ |
| 360gm/ 13oz | D: 13cm; H: 8.0cm | ✓ | ✓ |
| 490gm/ 17oz | D: 10cm; H: 12.5cm | ✓ | ✓ |
Popular Surface Handling for your reference.
| | |
| --- | --- |
| Surface Handling | Costomized Service |
| Color Painting | Available |
| Silk Printing | Available |
| Hot Stamping | Available |
| Label | Available |
| Decal | Available |
| Electroplating | Available |
| Laser | Available |