This seamless frosted candle jars give the candle an elegant look, a heavy and elegant feel, perfect for display, personal or business use. Glass candle jars light the candles, and the beautiful colors flicker as the flame illuminates the delicate relief. Designed with candle makers in mind, the high quality frosted glass candle jars wholesale with bamboo or metal lid is the perfect jar for making natural wax candles. The frosting jar provides the perfect glow for your candle creations. If you love making candles, you'll love these jars. It's not only a perfect candle jar, but also a great glass jar for craft and other small item storage, tea lights, bath salts, and bathrooms.
Frosted light blue candle jars features
1. Custom frosted candle jars give off a soft, diffuse light when lit, creating a warm and inviting atmosphere.

2. Bulk frosted candle jars are made of thick, durable glass that is resistant to cracking and breaking.

3. The frosted finish on the glass provides a subtle, elegant look that complements any decor.
4. These colored frosted candle jars bulk have a wide opening at the top, making them easy to fill with your favorite candle wax and fragrances.
5. They come with a tight-fitting lid that helps to protect the candle from dust and debris when not in use.
6. Frosted candle jars bulk are available in a range of sizes, so you can choose the perfect one to fit your needs.
7. Many of these frosted glass candle containers have a classic, timeless design that will never go out of style.
8. They make excellent gifts for birthdays, holidays, or any other special occasion.
9. Wholesale frosted candle jars with wooden lids can be used in a variety of settings, including homes, offices, and spas, to create a relaxing and soothing ambiance.
As a leading frosted candle jars supplier, best quality glass candle holders and frosted candle jars wholesale with your favored colors, designs and styles and provided by Boye. If you are looking for frosted glass candle jars with lids wholesale, welcome to contact us for your special requirements!
We accept OEM and small quantity orders.

Available surface handling:
Frosted, Inside Painting, Outside Painting, Electroplating, Logo Printing, Logo Hot Stamping, Decal, Laser and so on.
Customization Process is as below:
1) Confirm what size of jar you need.
2) Confirm the color of jar. It requires Pantone code or sample for specific colors.
3) Confirm the printing. We will need the printing artwork in Adobe Illustrator.
4) Free Sampling.
5) Mass production, with the sample confirmed.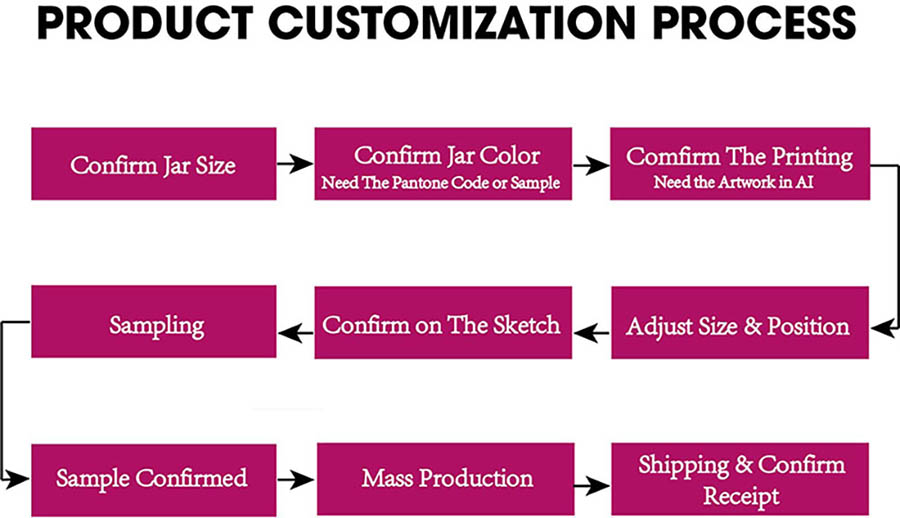 Hot Sale Sizes for your reference.

Jar Size
Clear Color
Frosted
Matt Black
Glossy Black
Matt White
Glossy White

D5.3cm; H6.2cm/

Holds 2.47oz wax.

✓
✓
✓
✓
✓
✓

D6.0cm; H7.4cm/

Holds 4.23oz wax.

✓
✓
✓
✓
✓
✓

D7.0cm; H8.4cm/

Holds 5.82oz wax.

✓
✓
✓
✓
✓
✓

D7.9cm; H9.3cm/

Holds 7oz wax.

✓
✓
✓
✓
✓
✓

D8.0cm; H9.0cm/

Holds 8oz wax.

✓
✓
✓
✓
✓
✓

D8.0cm; H10.5cm/

Holds 9oz wax.

✓
✓
✓
✓
✓
✓

D8.8cm; H10cm/

Holds 10oz wax.

✓
✓
✓
✓
✓
✓

D10cm; H10cm/

Holds 12.69oz wax.

✓
✓
✓
✓
✓
✓

D10cm; H12.5cm/

Holds 17oz wax.

✓
✓
✓
✓
✓
✓

D11.0cm; H8.0cm/

Holds 12oz wax.

✓
✓
✓
✓
✓
✓

D13.0cm; H8.0cm/

Holds 13oz wax.

✓
✓
✓
✓
✓
✓
Popular Surface Handling for your reference.

| | |
| --- | --- |
| Surface Handling | Costomized Service |
| Color Painting | Available |
| Silk Printing | Available |
| Hot Stamping | Available |
| Label | Available |
| Decal | Available |
| Electroplating | Available |
| Laser | Available |
Note: Please do not wash this product as it may damage the glass. Clean with a soft, warm damp cloth