Any of these repurposing hacks don't require any DIY skills, just your newly cleaned candle containers.
1. Gift giving
Cleaned glass containers (especially those with delicate lids) make perfect gift boxes. Layer them with chocolates and other sweets and finish everything off with a shiny metal bow. Friends and family will appreciate the unique twist.
2. Replant succulents
Finding the right jars can be difficult, but you've already done an approval check on your candles, so why not use these jars as succulent containers? They look stylish and if you have more than one of the same candle, they will match perfectly.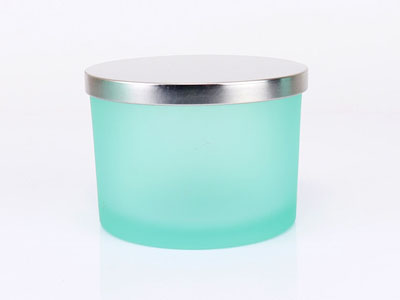 12oz Frosted Blue Glass Candles Jars With Wooden Lids
3. Enhance the ambience of your home
Add a few rolls of fairy lights to a few empty candle jars and place them in the windows. Whether you're having dinner for two indoors or arranging a Saturday night movie night for the family, it will add instant mood lighting.
4. Turn them into pinch pots
You don't have to go out of your way to source those chic ceramic bowls you often see in celebrity chefs' kitchens. Put salt and pepper in them, or help you separate the ingredients as you cook, and give a light-coloured or miniature candle jar a new look.
5. Organise your office supplies
If your desk looks like it's been pulled out of an "I Spy" book photo, then a 10-minute organisation break is in order. Simply use old candle jars to store pens, paper clips, staples and all the other items that make your workspace so efficient.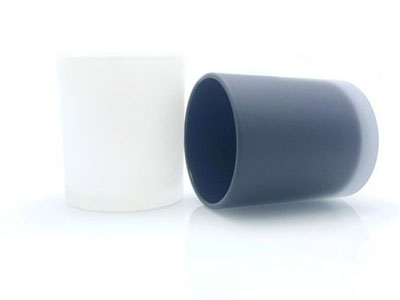 BOYE Good Quality Luxury Frosted Glass Jars For Candles
6. Give it a new lease on life
Place an empty glass on top of your dressing table or in your bathroom to provide space for jewellery, hair accessories or lipstick. It will keep everything neat and tidy and make lost earrings a thing of the past.
7. Make a mini herb garden
There's no need to leave home to find the perfect herb garden container. Just add some soil and seeds and watch your plants - and your culinary expertise - grow. They also look much more stylish (and environmentally friendly) than those basic plastic pots.
8. Make big glasses do the heavy lifting
Giant candle containers or hurricane glasses shaped containers offer many great upcycling opportunities. Re-use them as vases for those amazing bouquets, place various cooking utensils in them or fill them with things like shells or rocks as table centrepieces.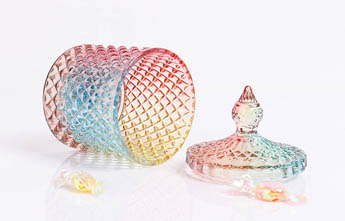 BOYE Luxury Colorful Rainbow Candle Glass Jars
Our candle jars are available in wholesale quantities or in any option or style you choose. Whether you are a candle enthusiast or a professional candle maker, you will find the right jar here for your next candle-making project. Most of our candle jars can be purchased with or without a lid as an option.
Our wide range of glass candle containers is available in a variety of sizes, shapes and colours. Glass jars are available in clear, frosted, matt and amber colours and can be matched with a variety of different lid options.
Frosted glass round candle jar
Frosted glass candle jars emit a warm glow when used to pack a range of candles. These frosted candle jars are supplied with a thick base and walls to assist in reducing the external temperature of the candle when it is lit. The smooth frosted application can help enhance these candle jars in home décor, restaurants, gift sets and more.
Buy Frosted Glass Candle Jars.
BOYE also offers metal candle containers. For additional information on these candle containers, as well as other great options, please be sure to read our product spotlight. BOYE strongly recommends testing these candle containers with your product to ensure full compatibility.
Whether you need more information, samples, a quote, or advice for a project, we would be delighted to talk to you.