As a Reed Diffuser Manufacturer, share with you. The sound of the piano gradually rises, the soft lights are scattered, and the curling fragrance envelops our sense of smell. If the hotel lobby that we open the door can touch our senses in such detail, who would say to such a hotel " No?

There is a consensus in the management of hotels that the first 10 minutes of staying in a place, whether for good or bad, will give guests a clear impression. Therefore, in the initial 10 minutes, before the core service content is too late to offer to customers, how to create a good "brand impression" is a topic that the hotel industry has been studying. After the traditional visual marketing and sound marketing have been developed one after another, the sense of smell has become another sensory experience of the hotel's new "invasion".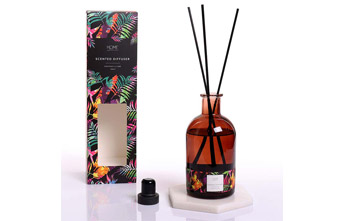 Reed Diffuser
Odor experts abroad have always believed that the nose is one of human's more sensitive organs and a sense organ that is closely connected with memory and emotion. The use of smell is a more effective way to achieve customer perception and experience. For hotels, it is undoubtedly an ingenious marketing method to use pleasant aromas to touch the olfactory nerves of customers, and to infiltrate with the wind to promote pleasant emotional and behavioral reactions of customers.
Foreign hotels have long extended marketing to people's sense of smell, attracting consumers' attention, memory, and recognition with specific smells, and then forming consumption. Many foreign hotel management groups or personalized hotels have made a fuss about people's sense of smell. And this change in brand marketing has also spread to major international brand hotels-Sheraton, Shangri-La, Marriott, InterContinental Hotels, etc. are all involved.
However, no matter what kind of marketing model it is, it will end up in different ways in the future. Their purpose is to increase customers' awareness of the brand and realize consumption. Fragrance marketing is no exception. After the hotel lobby scent has gone through the stage of purely used as a marketing tool in the first few years, the hotel has more in-depth thinking on the use of scent, and according to its own brand and unique customer positioning, designing a "scent label" that matches it, The brand is introduced into the hotel's exclusive fragrance, allowing customers to "smelt it and know it."
Our company also has Reed Diffuser on sale, welcome to contact us.