Decorating with frosted glass candle jars offers a versatile and elegant way to enhance your home decor or create a charming ambiance for special occasions. The frosted finish adds a touch of sophistication while allowing the gentle glow of candlelight to shine through. Here are several creative and inspiring ideas for decorating with frosted glass candle jars:
1. Centerpiece Display:
Frosted glass candle jars make stunning centerpieces for dining tables, coffee tables, or mantels. Cluster multiple jars of varying heights and sizes in the center of the table and place candles inside. You can add natural elements like flowers, pinecones, or seasonal foliage around the jars for a beautiful and cohesive look. This arrangement creates a warm and inviting focal point for gatherings and special occasions.
2. Outdoor Lighting:
Take advantage of frosted glass candle jars' ability to diffuse light and create a magical atmosphere for outdoor spaces. Line your garden path or patio with these jars, each containing a candle. The frosted effect will softly illuminate the surroundings, providing a cozy and enchanting ambiance for evening gatherings or romantic dinners outdoors.
3. Holiday Decor:
Frosted glass candle jars can be incorporated into holiday-themed decorations. For Christmas, place red or green candles inside the jars and tie a festive ribbon around each one. You can also fill the jars with seasonal items like ornaments, pine branches, or cinnamon sticks for a rustic touch. These jars can be placed on the mantel, used as table centerpieces, or arranged on a decorative tray to create a holiday-inspired display.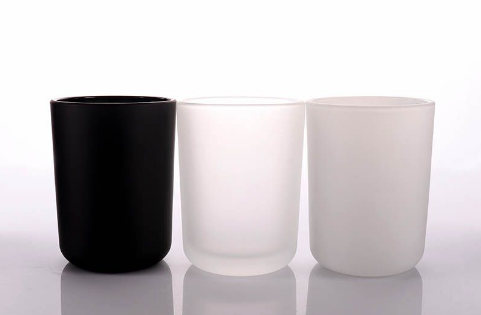 Luxury Frosted Glass Candle Jar With Wooden Lid
4. Beach-Inspired Setting:
Create a beachy and serene atmosphere by using frosted glass candle jars in your coastal-themed decor. Fill the jars with sand and small seashells, and place a tealight or votive candle on top. These jars can be arranged on a tray with seashells, starfish, or driftwood to complete the coastal look. The soft glow through the frosted glass will evoke a tranquil and relaxing vibe reminiscent of the seaside.
5. Wedding or Event Decor:
Frosted glass candle jars are perfect for adding elegance to wedding or event decor. Use them as table centerpieces, placing a tall candle inside each jar. You can embellish the jars with ribbons, lace, or decorative charms that match the theme or color scheme of the event. Arrange the jars on a mirrored surface or scatter flower petals around them for an extra touch of romance.
6. Spa-Inspired Relaxation:
Transform your bathroom or bedroom into a spa-like retreat with frosted glass candle jars. Fill them with scented candles in soothing fragrances like lavender, eucalyptus, or vanilla. Arrange the jars on a tray or shelf near your bathtub or vanity, creating a calming and inviting atmosphere. The frosted glass will diffuse the candlelight, providing a serene and tranquil ambiance for relaxation.
7. Seasonal Themes:
Adapt your frosted glass jars to different seasons throughout the year. For spring, fill the jars with pastel-colored candles and delicate flowers. In autumn, opt for warm-toned candles and fall foliage, such as colorful leaves or miniature pumpkins. During winter, use frosted glass candle jars as part of your holiday decor, filled with red or silver candles and adorned with ribbons or glittering ornaments. By changing the contents and accents of the jars, you can effortlessly reflect the mood and aesthetics of each season.
Remember to consider safety precautions when using candles and always follow the manufacturer's instructions. Additionally, monitor the candles and never leave them unattended. With these decorating ideas, frosted glass candle jars can add a touch of elegance, warmth, and charm to any space or occasion. Get creative, experiment with different styles and themes, and enjoy the beautiful ambiance they create.
If you want to know more information about Frosted Glass Candle Jars, please contact us. We will provide professional answers.